Sandaliyah Nuaim Eau De...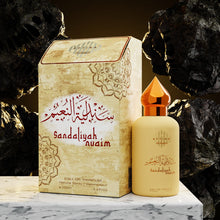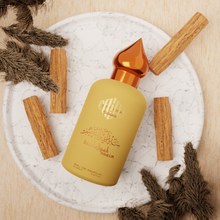 Sandaliyah Nuaim Eau De Parfum 100ml
Rs. 999.00
( / )
All taxes and shipping are included
Sandaliya Nuaim Is A Luxurious And Captivating Fragrance That Offers A Unique And Unforgettable Experience. This Fragrance Is A Rich And Exquisite Composition That Seamlessly Blends Modern Amber And Musk With The Cherished And Timeless Notes Of Sandalwood, Creating A Truly Enchanting Scent Trail .At The Very Beginning, The Fragrance...
Sandaliya Nuaim Is A Luxurious And Captivating Fragrance That Offers A Unique And Unforgettable Experience. This Fragrance Is A Rich And Exquisite Composition That Seamlessly Blends Modern Amber And Musk With The Cherished And Timeless Notes Of Sandalwood, Creating A Truly Enchanting Scent Trail .At The Very Beginning, The Fragrance Opens With The Inviting And Comforting Top Notes Of Woody Accords. These Woodsy Notes Create A Sense Of Warmth And Natural Elegance, Setting The Foundation For The Olfactory Journey That Follows.
Softness And Sophistication To The Overall Composition. The Powdery Notes Contribute To The Sense Of Luxury And Refinement, Enhancing The Fragrance's Allure And Appeal.
At The Heart Of Sandaliya Nuaim Lies The Essence Of Heritage Sandalwood, A Note Cherished For Centuries For Its Rich And Complex Aroma. The Intermingling Of This Precious Sandalwood Note With Modern Amber And Musk Creates A Harmonious Blend That Exudes Sensuality And Timeless Elegance. The Amber Adds A Warm And Inviting Sweetness, While The Musk Brings A Sensual And Alluring Depth To The Fragrance.
As The Scent Develops And Settles Into The Base Notes, The Luxurious And Captivating Combination Of Amber, Musk, And Sandalwood Continues To Unfold, Forming A Linear Scent Trail. This Linear Quality Ensures That The Fragrance Maintains Its Captivating Aura Throughout The Wear, Leaving A Lasting Impression On Everyone Who Encounters It.
In Summary, Sandaliya Nuaim Is A Masterpiece That Culminates The Most Sensual Notes With A Dash Of Elegance. Its Modern Amber And Musk Entwined With The Heritage Sandal Notes Create A Captivating And Long-Lasting Fragrance That Will Undoubtedly Leave A Memorable Mark Wherever It Is Worn.

 Top notes: Woody
Mid notes: Powdery
Base notes : Amber, Musk, Sandal
          Country of Origin: India
          Marketed by: Al Nuaim
          No:12, Mustafa Mansion ,173-181, Chakla Street , Mumbai-400003.
          Mail: info@al-nuaim.com Phone No:+91 9820786700
          Packed By: Virgin Fragrances L.L.P
         6, Amaan Est, Chinchoti (E), Dist, Palghar-401208, Maharashtra