Eftina Bitter Peach Eau...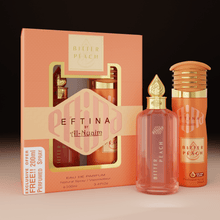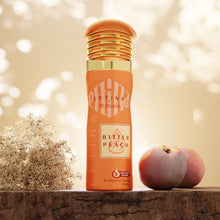 Eftina Bitter Peach Eau De Parfum 100ml + Free 200ml Perfumed Spray
Rs. 1,299.00
( / )
All taxes and shipping are included
The Bitter Peach Gift Set Is A True Indulgence For Fragrance Enthusiasts. Its Luxurious And Captivating Scent Promises To Tantalize The Senses From The Very First Spray. At The Top Notes, The Fragrance Opens With A Delightful And Sweet Peach Aroma, Evoking Images Of Luscious Summer Fruits And Adding A...
The Bitter Peach Gift Set Is A True Indulgence For Fragrance Enthusiasts. Its Luxurious And Captivating Scent Promises To Tantalize The Senses From The Very First Spray. At The Top Notes, The Fragrance Opens With A Delightful And Sweet Peach Aroma, Evoking Images Of Luscious Summer Fruits And Adding A Touch Of Succulence To The Overall Experience.
As The Scent Develops, The Light And Floral Aroma Of Mango Emerges, Blending Harmoniously With The Peach Notes. This Combination Creates A Refreshing And Tropical Feel, Infusing The Fragrance With A Sense Of Exotic Allure And Brightness.
The Base Note Of Warm And Inviting Musky Vanilla Adds Depth And Sophistication To The Fragrance. As Time Passes, This Base Note Ensures That The Scent Lingers On The Skin, Enveloping You In An Alluring And Captivating Aroma That Won't Be Easily Forgotten.
Bitter Peach Is A Decadent Scent Designed To Leave A Lasting Impression. Whether You're Dressing Up For A Special Occasion Or Simply Want To Feel Alluring And Confident, This Fragrance Will Be The Perfect Companion. Its Sweet, Fruity, And Floral Elements, Combined With The Warm And Comforting Base, Make It A Versatile And Irresistible Choice For Any Time Of The Year.
With The Bitter Peach Gift Set, You Can Enjoy The Enchanting Fragrance In Both A 100ml Eau De Parfum And A Complementary 200ml Body Spray, Ensuring You Have Plenty Of Opportunities To Savor This Unforgettable Scent. Treat Yourself Or Surprise Someone Special With This Luxurious Gift Set, And Let The Allure Of Bitter Peach Become An Unforgettable Part Of Your Olfactory Journey.

Country of Origin: India
Marketed by: Al Nuaim
 No:12, Mustafa Mansion ,173-181, Chakla Street , Mumbai-400003
 Manufactured By: Virgin Fragrances L.L.P .
  6, Amaan Est, Chinchoti,Vasai (E), Dist Palghar-401208, Maharashtra