Baccarat Rough 540 Eau...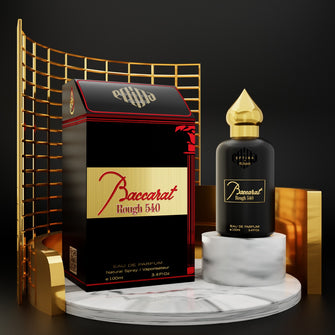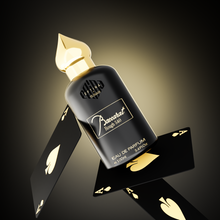 Baccarat Rough 540 Eau De Parfum 100ml
Rs. 799.00
( / )
All taxes and shipping are included
Baccarat Rouge 540 Is An Enchanting And Captivating Fragrance That Epitomizes Glamour And Sensuality. From Its Alluring Opening To Its Exceptional Dry Down, This Fragrance Promises A Mesmerizing Olfactory Experience.The Fragrance Starts With A Captivating Hook Of Sweet Berries And Floral Notes, Which Lend A Fresh And Fruity Sweetness To...
Baccarat Rouge 540 Is An Enchanting And Captivating Fragrance That Epitomizes Glamour And Sensuality. From Its Alluring Opening To Its Exceptional Dry Down, This Fragrance Promises A Mesmerizing Olfactory Experience.
The Fragrance Starts With A Captivating Hook Of Sweet Berries And Floral Notes, Which Lend A Fresh And Fruity Sweetness To The Initial Impression. The Combination Of Berries And Florals Adds A Touch Of Playfulness And Elegance, Drawing You Into Its Allure.
Intertwined With The Sweetness Of Berries, The Intoxicating Saffron Note Emerges, Creating A Mesmerizing And Spicy Depth To The Heart Of The Fragrance. The Saffron Adds An Element Of Intrigue And Warmth, Enhancing The Overall Allure Of The Composition.
As The Fragrance Further Unfolds, It Reveals A Warm And Spicy Wave In Its Mid Notes. This Spicy Accord Imparts A Sense Of Comfort And Richness, Enveloping The Wearer In A Comforting Embrace.
The Base Notes Of Baccarat Rouge 540 Are Where The Fragrance Truly Shines And Becomes Unique And Exceptional. A Captivating Blend Of Amber, Musk, Woody Vanilla, And Resin Create A Sweet, Woody, And Musky Dry Down That Lingers On The Skin, Leaving A Lasting Impression. The Amber Adds A Warm And Inviting Sweetness, While The Musk Provides A Sensual And Inviting Quality. The Woody Vanilla And Resin Notes Add Depth And Complexity, Completing The Fragrance In An Exquisite And Sophisticated Manner.
In Summary, Baccarat Rouge 540 Is An Exceptional Fragrance That Enchants With Its Sweet And Fruity Opening, Intoxicating Saffron Heart, And Warm And Spicy Mid Notes. The Base Notes Of Amber, Musk, Woody Vanilla, And Resin Create A Truly Unique And Captivating Dry Down That Seals The Creation, Making It An Extraordinary And Unforgettable Olfactory Experience.

   Top notes: Fruity, Berries, Floral
   Mid notes: Saffron, Warm,Spicy
   Base notes: Amber, Musk, Woody Vanilla, Resin
           Country of Origin: India
          Marketed by: Al Nuaim
          No:12, Mustafa Mansion ,173-181, Chakla Street , Mumbai-400003.
          Mail: info@al-nuaim.com Phone No:+91 9820786700
          Packed By: Virgin Fragrances L.L.P
         6, Amaan Est, Chinchoti (E), Dist, Palghar-401208, Maharashtra